Wireless Broadband Network
The first fully-managed CBRS platform that combines private LTE data with business-critical voice.
On-premise private LTE
Don't bring consumer broadband to a commercial site. With twice the capacity* and up to four times the range* of Wi-Fi, Nitro CBRS Private LTE lets you do more with less.
Extend your existing devices
Deliver seamless, secure, high-fidelity voice conversations across your campus or across the country with MOTOTRBO voice interoperability, and connect up to two devices to your CBRS-enabled portable two-way radio via Wi-Fi.
Full management and control
Focus less on managing your network and more on leveraging its performance. Remove the hassles of network management while enabling full control of your operation via a cloud-based portal.
An end-to-end private LTE partner
Because we manage the solution end-to-end, you can rest assured that all network components are tested and validated to work seamlessly together.
*Based on 802.11a standard for 5.0 GHz Wi-Fi using similar channel bandwidths.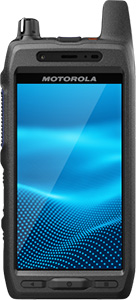 Evolve LTE handheld
Combining the capabilities of an Android device with the ruggedness and reliability of a business-critical push-to-talk device, using CBRS private LTE and Wi-Fi.
Click Here To View Full Specs Of This Device.